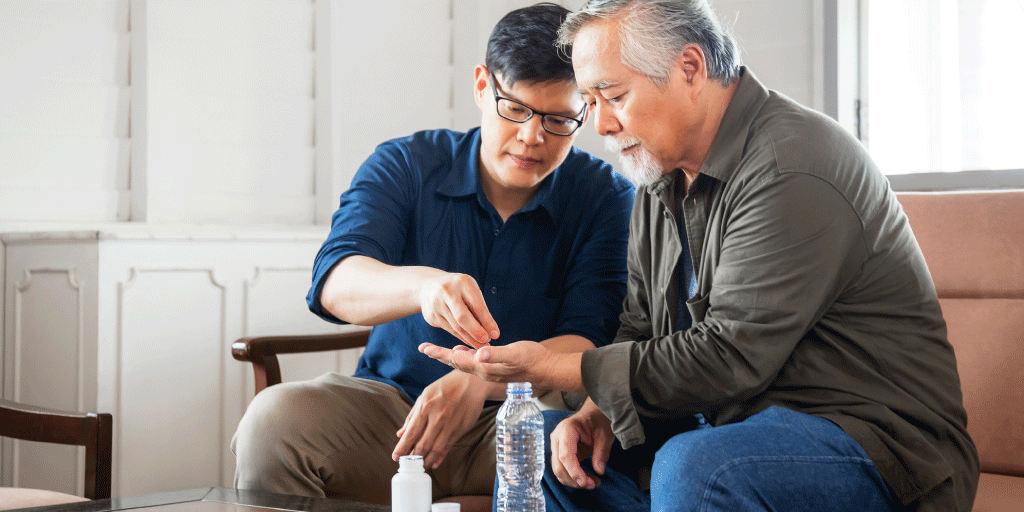 Support for Caregivers Who Manage Medications
Being a caregiver for a loved one with chronic illness can be tough. Managing medications is only one part of the job, but it's a very important responsibility. It needs to be done right to keep your loved one safe and on the path to better health. This is one reason why people find it to be a stressful task.
Most family caregivers don't have a medical background, but the majority of them manage medications for their loved ones.1
Managing Medications for Others
Managing multiple daily medications is more complex than many people realize. There are a lot of things to remember and think about. This includes:
Knowing the names of all the medications prescribed to your loved one and who prescribed each medication
Learning about what each of these medications do
Picking up prescriptions on time every month
Keeping track of refills to make sure your loved one has the medications they need
Sorting and organizing pills
Being aware of possible interactions between prescription medications and any vitamins, supplements, and non-prescription medications they take
Ensuring your loved one takes their medications as directed at the right time each day
Properly disposing of unused or expired medications
Updating healthcare providers and your pharmacy on any changes to your loved one's health or medications
Helping Prevent Medication Mistakes
It is important for caregivers to do what they can to help prevent medication mistakes. This means making sure your loved ones are taking their medication as prescribed to keep them safer and healthier. [Read about the importance of taking medication as prescribed.]
There are a number of tools and products you can use to do this. Some options are:
Pill organizers. There are many different types of pill organizers that can be used for sorting pills by day and time. These often need to be customized if you are managing more than a few daily pills.
Multi-dose packaging. Some pharmacies can sort and organize medications for you. They can package them to be taken together at a certain time of day.
A regular clock or phone alarm can alert you when it's time for your loved one to take their medications.
A medication checklist. A list is a simple way to keep track of which medications are taken throughout the day.
Medication apps. If you prefer to use a smartphone or tablet, there are many apps available to download. Most of these apps can send you medication reminders as a text, call or notification. They also have other helpful features related to medication management.
Pharmacy Support for Caregivers
Another way caregivers can help prevent medication mistakes is by using a pharmacy that can make their job easier. [Read about the importance of using a single pharmacy.]
Some pharmacies offer more support than others, so you will need to do some research. Before you get started, decide how much help you need and what services are important to you.
At ExactCare, we specialize in making it easier to manage multiple daily medications for both patients and caregivers. We can support you by providing:
Monthly delivery of all medications at the same time. This gives you peace of mind that you aren't forgetting to pick up prescriptions.
Medications pre-sorted and packaged into daily packets labeled by day and time. This can include non-prescription medications, vitamins, and supplements as well. This gives you less for to organize!
Monthly medication reviews by a pharmacist to look for potential drug interactions and health risks. If we find any issues, we will talk to the prescriber to find a solution.
Help getting refills from prescribers so you don't have to chase them down.
An online patient portal that you can use to access your loved one's medications and account information.
Medication reminders and delivery alerts
To learn more about how ExactCare can help you, call us at 1-844-287-1609. We are happy to answer any questions you might have. Or, you can read more about what we do here.
National Alliance for Caregiving and AARP. (2020). Caregiving in the U.S