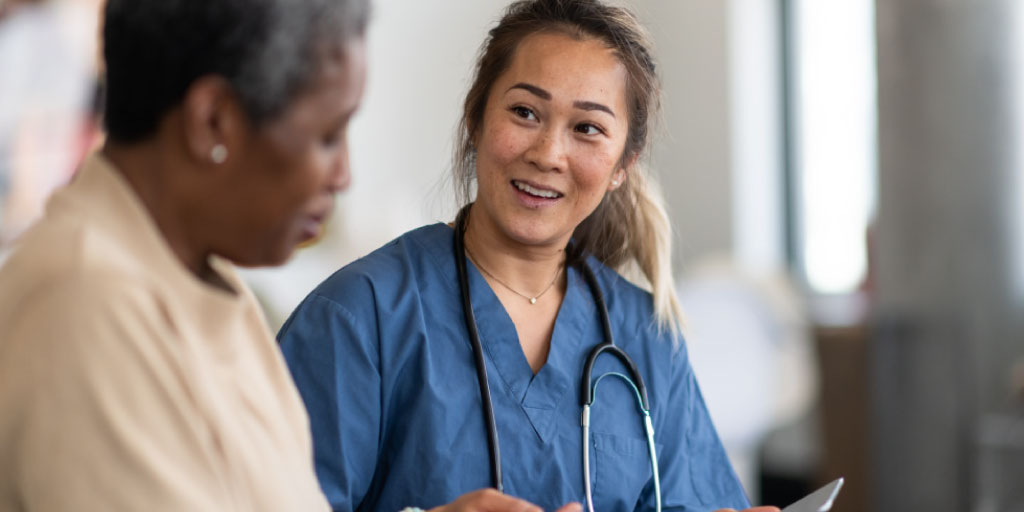 OASIS M2020: Helping Home Health Patients Gain Independence
Pharmacy Support Where and When Patients Need It
Navigating transitions of care can be challenging for anyone, but especially so for patients with complex medical needs. Often, these patients are managing chronic health conditions, multiple medications, and relationships with several prescribers. This complexity can be especially apparent during a home health episode of care, when patients are being discharged from the hospital or a skilled nursing facility (SNF) and transitioning back into their homes.
For a home health agency, ensuring a successful transition to prevent readmissions and help patients stay at home is paramount. An important component of that includes helping patients independently manage their medications, measured by OASIS M2020: Management of Oral Medications.

Helping patients independently manage their medications can be a tall task. It can be easy for patients to become overwhelmed and confused, even with support from a caregiver. And that confusion can intensify following a hospital discharge due to new prescribed medications added to the mix. In fact, patients leave the hospital with a median of four new prescriptions.1
Managing Medications after a Transition of Care
These post-discharge changes can leave patients piecing together a variety of medication instructions and asking the following questions:
What time do I need to take medications?
What medications can I take together?
Do I need to take medications on an empty stomach or with food?
This medication management puzzle can risk a patient's ability to manage medications on their own. Home health care clinicians see it all the time—medication mismanagement can result in adverse events, such as drug interactions, that can lead to hospital readmissions or other negative outcomes.
More than 30% of patients have an adverse event within two weeks of discharge.2
An estimated 26% of patients are readmitted to the hospital due to a medication issue post discharge.3
Pharmacy Support You Can Rely On
High-touch, comprehensive medication management support from a pharmacy partner that leverages multiple medication adherence interventions can improve patient success, increase independence and, ultimately, lead to better patient health. A recent RAND Corporation study showcased just how, demonstrating increased medication adherence, fewer admissions and shorter length of stays for patients on service with ExactCare.
ExactCare provides clinical pharmacy support to optimize medication therapy and also utilizes a combination of multiple medication adherence interventions, including:
Coordination of refills across the care team
Time-of-day adherence packaging
Medication reminders
Monthly delivery
Together, these medication adherence tools provide patients with an easier way to independently manage their medications—and ultimately helping them achieve better health.
For home health organizations, this can enable improvements at the patient level for aspects of medication management measured by OASIS M2020. This includes a patient's ability to take the right medication and doses at the right time and the level of support they require from others to do so.
1. Kripalani S, Price M, Vigil V, Epstein KR, Prescription Issues after Hospital Discharge. J. Hosp. Med 2008;1;12-19. doi:10.1002/jhm.248
2. Post‐discharge medicines management, Health Expectations. 2020;23:1603–1613.
3. According to a 2017 Study published in the Journal of American Pharmacists Association