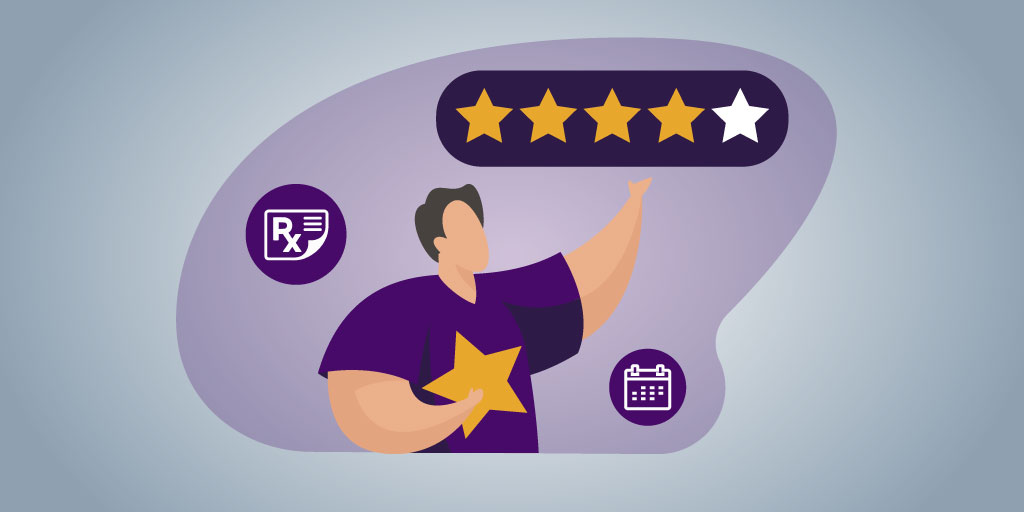 How Medication Adherence Impacts Medicare Star Ratings
Understanding how PDC measures medication adherence is the foundation for enabling optimal results
Patient Care, Prescriptions and Medicare Star Ratings
Medication adherence is a crucial part of patient care. This means ensuring patients are taking the right dose of their prescribed medications at the right time of day, every day. Medication adherence also impacts several clinical goals that affect a health plan's quality and cost measures—and Medicare Star Ratings performance.
According to the Center for Medicare & Medicaid Services (CMS), 41% of Medicare Star Ratings performance is influenced by proper prescribing and medication adherence.
Through the Medicare Star Ratings system, Medicare managed care plans are rated on multiple measures, but there are three that specifically tie to medication adherence. They are:
Medication adherence for oral diabetes medications
Medication adherence for hypertension
Medication adherence for cholesterol (statins)
These medication adherence measures are triple-weighted by CMS in a plan's Medicare Star Ratings calculation. And they can have a significant impact on a Medicare plan's overall Star Rating performance.
How is Medication Adherence Measured for Medicare Star Ratings?
CMS uses a methodology called Proportion of Days Covered (often abbreviated as PDC) to calculate a member's adherence to their prescription medications as a percentage of days a member has prescription medications on hand. This is measured by prescription insurance claims.
The goal established by CMS is 80% adherence to medications. Why? Because 80% adherence is considered the minimum threshold for medication therapy to be effective.
CMS establishes "cut points" for each medication adherence measure, indicating the percentage of patients that should be at or over this 80% adherence. There are different cut points for each of the three PDC measures, and these cut points typically are updated annually.
How is PDC calculated?
The PDC calculation includes two numbers. First, the number of days a patient has medications on hand in a period of time. Second, the total number of days in that period of time. The first number is divided by the second to get a plan's PDC score.
Example: If a patient has five refills of a 30-day supply of medication, that equals 150 days' supply dispensed. If this occurs over a six-month period (180 days), the PDC calculation in this scenario is 150/180 = 83.3%.
Medicare plans receive an annual PDC calculation that is utilized in their Medicare Star Ratings. Each calendar year on January 1, the PDC calculation re-sets.
But don't worry. The PDC calculation does take into consideration unplanned healthcare events, such as a hospital or skilled nursing facility (SNF) admission. Members who have experienced one of these during the calendar year are excluded from the plan's annual PDC score calculation.
How Can Pharmacies Help Medicare Plans Improve PDC Scores?
Collaboration to ensure timely refills and overcome other adherence barriers is one of the most impactful opportunities for plans, providers and pharmacies. A pharmacy that proactively coordinates with prescribers helps health plan members overcome routine challenges to medication access and adherence. They can also drastically improve a plan's PDC scores.
A recent study conducted by RAND Corporation showcases the potential impact of comprehensive medication management that includes multiple adherence interventions. The study, published in the Journal of Managed Care + Specialty Pharmacy, demonstrated statistically significant improvements in adherence for members using ExactCare services.
To learn more about how managing medication adherence at a patient level drives improved results, read the complete study here.