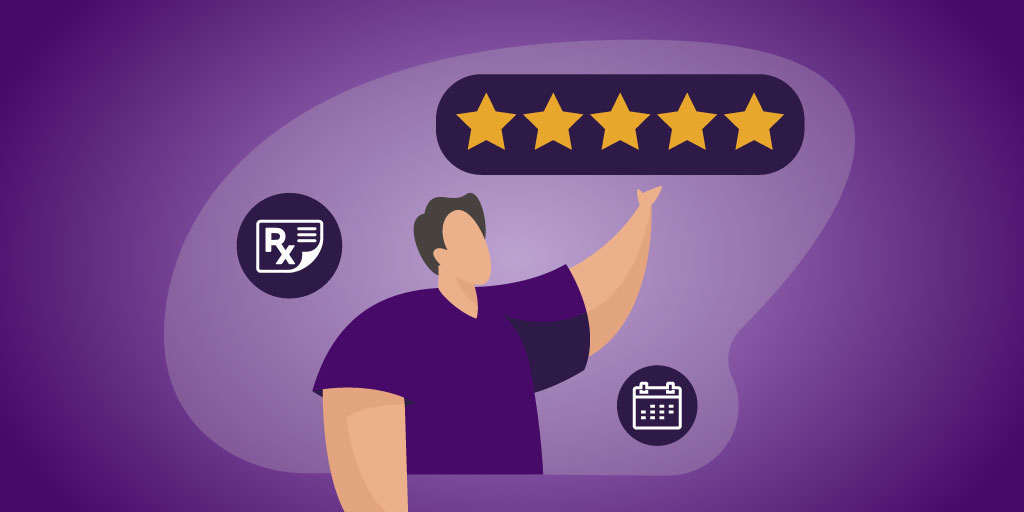 Improving Medicare Star Ratings through Medication Adherence
Best practices to improve medication adherence performance
Medication adherence plays a critical role in a member's overall health and quality of life while significantly influencing Medicare Star Ratings for health plans.
According to the Center for Medicare & Medicaid Services (CMS), 41% of Medicare Star Ratings performance is influenced by proper prescribing and medication adherence.
Three of the measures CMS uses to calculate Medicare Star Ratings track medication adherence: one for diabetes medications, one for statins, and one for antihypertensive drugs. These medication adherence measures have an even greater impact on a plan's Medicare Star Ratings because they are triple-weighted in the calculation.
A health plan's Medicare Star Rating is important for many reasons—it impacts things such as member enrollment, provider networks, marketing timelines, and reimbursement dollars. Plans that achieve a Medicare Star Rating of 4.5 Stars or more earn a notable 5% more in reimbursement dollars than plans that rate lower.
While Medicare plans recognize the opportunity this presents, improving medication adherence is complex. Here are a few things to keep in mind as your plan is developing a strategy to improve medication adherence.
Provide Targeted Support for High-Risk Members
It is estimated that 20-30% of prescription medications are never filled. Out of those that are filled initially, only 15-20% are refilled as prescribed.
For people taking multiple prescription medications every day, staying adherent can be even more challenging. In fact, 40-50% of people who take prescription medication for a chronic condition are nonadherent. And the majority of those members reported taking less medication—or not taking their medication at all—after six months.
People living with chronic conditions have a unique set of needs. These can significantly vary depending on the types and number of conditions they are managing. These unique needs often lead to complex and multiple adherence barriers. Developing a strategy to help this population improve adherence can be especially challenging. But it is immensely impactful to a plan's overall results.
Identifying members most at risk of nonadherence is the first step in building a strategy. Members with complex, chronic medical needs is a good place to start.
Offer Comprehensive, Personalized Medication Adherence Solutions
Medication management and pharmacy care is not a one-size-fits-all solution. When it comes to supporting members with more complex medical needs or those managing chronic conditions, a specialized approach is vital.
Members all have different ways of managing their medications and different levels of support in doing so. These variables may include things such as:
Whether or not a member understands how to take their medications properly
Whether or not they have caregivers (medical or non-medical) supporting them with their medications
Members' health literacy levels
Other everyday challenges that hinder medication adherence
A best practice approach is to provide multiple adherence interventions to members that can address the variety of challenges they may face. It can be even more impactful to provide these coordinated interventions into a single solution to promote buy-in and ease of use.
A recent study by RAND Corporation and published in JMCP evaluated the impact of one such solution. This comprehensive approach from ExactCare provides multiple adherence interventions:
Refill management
Medication synchronization
Delivery
Time-of-day adherence packaging
Medication reminders, and more.
The study revealed improved adherence for the triple-weighted medication adherence measures that impact Medicare Star Ratings.
Proactively Plan
When is the right time to start developing plans to improve medication adherence and Medicare Star Ratings? Right now—and all year long. Monitoring, measuring and managing adherence is best treated as an ongoing process.
Plans can benefit from working with a medication management and pharmacy partner who thoroughly understands the Proportion of Days (PDC) calculation CMS uses to measure adherence. But understanding PDC isn't enough. Your pharmacy partner should be equipped with predictive modeling to monitor and track member-level adherence and the impact on plan results. They should also provide clinical resources to manage personalized member interventions.
Predictive modeling should consider all factors of PDC calculations, including exclusions such as hospital or SNF admissions, to best inform your management, ongoing evaluation and planning.
Timing is also paramount. There will come a point in the calendar year when some members' adherence levels will not be recoverable to 80% for the calendar year. Find a partner who can identify these risks and mitigate them before they happen.
Collaborate Across the Healthcare Team
Strong collaborative partnerships across the healthcare team are critical to medication adherence success. They are even more important for members who take multiple prescription medications and see multiple prescribers. Consider this: the typical Medicare beneficiary sees a median of seven physicians per year, including two primary care physicians and five specialists.
Patients can become non-adherent for a variety of reasons, which may include:
Symptoms going away, so they think they don't need their medication
Negative side effects from a medication
Transportation barriers to picking up their medication
Price-related concerns
Or something else
All of these things can deter a member from getting their prescription medications on time. Pharmacists can play a central role in coordinating across the healthcare team. They can mitigate member concerns, help them overcome medication adherence barriers and prevent gaps in medication coverage.