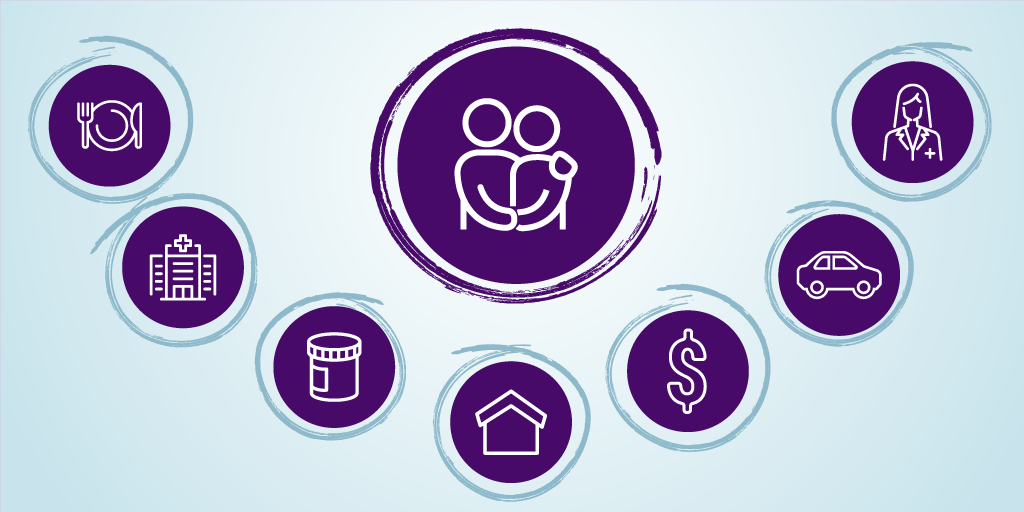 Enabling Outcomes with Social Determinants of Health through Pharmacist Collaboration
Social determinants of health (SDOH) can affect as much as 80 percent of a person's health outcomes1—including a patient's ability to adhere to prescribed medications and the effectiveness of their treatment. Increased collaboration among the healthcare team—including physicians, home health clinicians, health plans, and pharmacists—can create opportunities to proactively identify SDOH challenges and provide solutions that enable better health outcomes. Pharmacists can play a leading role in helping to deliver these solutions.
What are Social Determinants of Health?
SDOH are non-medical factors regarding the conditions of a person's life that affect a wide range of health risks and outcomes. Here are just a few examples of SDOH conditions that can influence health outcomes:
Income

Education and health literacy

Housing security

Lack of transportation

Food insecurity

Working life conditions

Early childhood development

Social inclusion and non-discrimination

Access to affordable health services
Any of these social challenges can have an impact on a patient's ability to successfully manage a variety of health aspects. This includes accessing healthcare providers, taking their medications as prescribed, and keeping chronic conditions under control. As a result, patients who are experiencing social problems may have a higher likelihood of developing chronic diseases and experience other increased health issues.
The number of chronic diseases for adults in households experiencing food insecurity was 18% higher than those in food-secure households, according to an analysis from a USDA National Health Interview Survey.2 Another study conducted in 2020 found that 16.5% of patients with COPD and 16.2% of patients with depression also reported challenges with food supply.
"The evidence is clear: social determinants of health, such as access to stable housing or gainful employment, may not be strictly medical, but they nevertheless have a profound impact on people's wellbeing." – Center for Medicaid and Medicare Services (CMS) Administrator, Seema Verma
SDOH Impact on Healthcare
SDOH can affect healthcare utilization and cost, health outcomes, and health disparities. Recent research even shows that some social interventions targeted at Medicaid patients can result in improved health outcomes and savings in healthcare.3 It is estimated that 171 million Americans will have one or more chronic conditions by 2030. And according to the CMS Office of the Actuary, national health spending is projected to reach $6.2 trillion by 2028. Much of that spending is driven by chronic diseases. Leveraging SDOH screenings to proactively identify challenges that may prohibit patients from managing—or even preventing—chronic conditions can enable better patient quality of life and reduced healthcare costs.
Only 24% of hospitals and 16% of physician practices screen for these determinants due to lack of time, feasibility and infrastructure.4
SDOH and Medication Adherence
Medication adherence can have a significant impact on chronic disease management and, subsequently, a patient's overall health. But SDOH can create barriers that prevent patients from taking their medications as prescribed. These SDOH-related barriers may include:
Inability to afford medications

No transportation to pick up prescriptions from the pharmacy

Low health literacy to efficiently self-manage medications

Lack of food supply inhibiting patients from taking medications that require food
Some pharmacy models can help patients overcome some of these barriers by providing medication home delivery or telepharmacy support. This in turn provides easier access to medications and clinical pharmacy consultations, no matter a patient's location. Through telepharmacy services, pharmacists are able to have more frequent conversations with patients, even those in the most rural locations, to provide quality care.
Additionally, medication home delivery helps patients overcome transportation and mobility barriers. While this type of pharmacy support may help a patient overcome some SDOH barriers and promote improved medication adherence, it does not address the broader SDOH challenge.
According to the American Hospital Association, over 3 million patients experience transportation barriers to accessing their healthcare.
Pharmacy's Role in Overcoming SDOH Challenges
Beyond providing pharmacy services that make it easier for patients to obtain their medications and access pharmacy care, pharmacists can build strong collaborative partnerships with other members of the patient's healthcare team. This helps to identify and overcome other SDOH-related health challenges. This may include partnerships with hospitals, primary care physicians, Medicare and Medicaid plans, or others. Because pharmacists regularly interact with patients—oftentimes more frequently than other care providers—they are well-positioned to help identify SDOH challenges.
Comprehensive pharmacy service models may provide opportunities to screen patients for SDOH. By providing SDOH screenings, a pharmacy partner can help create a more complete picture of the patient's circumstances. This helps to address barriers that may be hindering a patient's ability to successfully manage their health.
More sophisticated solutions, like programs offered through ExactCare, include support to connect shared patients to SDOH solutions offered through their health plans or healthcare providers. ExactCare conducts SDOH screenings for all new patients and works with health plan and provider partners to develop programs that connect patients to SDOH support. Contact us today for more information.