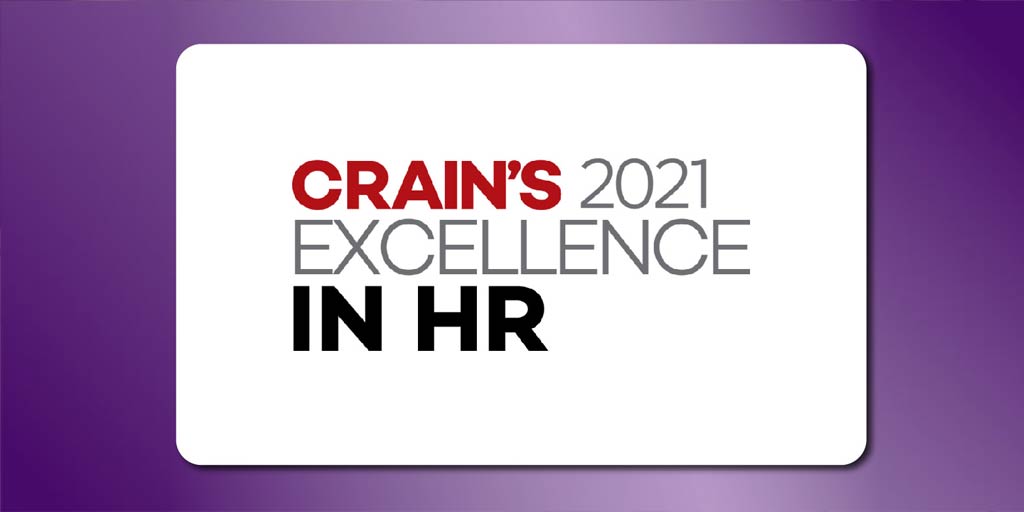 ExactCare Director of Human Resources Wins Crain's Excellence in HR Award
Crain's Cleveland Business has recognized ExactCare Human Resources Director, Emily Hembree, with the Excellence in HR Awards in the Rising Star category. Hembree was recognized Wednesday, Aug. 18 at a virtual awards event for the Crain's Excellence in HR Awards.
The HR Rising Star award recognizes up-and-coming HR professionals who demonstrate a combination of achievements, industry and community involvement—and showcase the potential required to lead the next generation of human resources professionals.
Hembree joined ExactCare in 2015 and has since played an integral role in supporting the company's growth from 250 to more than 800 employees—half of which joined ExactCare in 2020, adding the complexity of onboarding new employees during the COVID-19 pandemic. Concurrently, the team was rapidly shifting to accommodate supporting a majority of employees working remotely while still managing the daily ongoing HR business needs.
"No task is too tall for Emily," said Veronica Oubayan, Senior Vice President of Human Resources Operations for CarepathRx and ExactCare. "She prides herself on operational excellence and is always looking for opportunities to improve efficiency. With her process enhancements and leadership, she has enabled the HR team to effectively support more than 40% growth in the size of the workforce without adding to the HR team itself. That's a really remarkable achievement."
During this rapid growth, Hembree maintained an intense focus on employee engagement and an award-winning culture, as exhibited by ExactCare's recent awards including Top Workplaces USA, Top Workplaces NEO and Smart Culture.
Oubayan adds, "At ExactCare, we believe in putting our patients first. Emily not only shares in this belief, but she understands that in order to put our patients first, we must provide our employees with a culture and workplace where they can thrive, succeed and be inspired to serve our patients. Emily strives to create a culture that is inclusive and high performing to enable the company to grow and impact the lives of many more patients across the country."
About ExactCare
ExactCare, a CarepathRx company, provides solutions to overcome medication-related and chronic care challenges for patients with complex, chronic medical needs. Founded in 2009, the company drives better health for patients and better clinical, quality and economic outcomes for the healthcare organizations that care for them—including payers, health systems and hospitals, home health organizations, primary care practices and other providers. ExactCare provides comprehensive long-term pharmacy care to patients in assisted and independent living facilities, throughout transitions of care, and in their homes—with a focus on improving patient adherence to prescribed medications and enabling safer, more effective medication regimens. ExactCare also provides a number of additional value-based solutions, including HEDIS Gap Closure Assistance and Medication Therapy Management (MTM) Programs. ExactCare is licensed to serve patients nationwide. For more information, visit www.exactcare.com.
About CarepathRx
CarepathRx is transforming pharmacy care delivery for health systems and hospitals, delivering improved patient outcomes that drive clinical, quality, and financial results. Through the industry's most comprehensive, end-to-end hospital pharmacy care delivery model, CarepathRx is turning hospital pharmacy into an active care management strategy and revenue generator while providing support across the patient's complete healthcare journey. The company takes an enterprise approach, providing a powerful combination of technology, market-leading clinical pharmacy services, and wrap-around services that optimize pharmacy performance across the enterprise for fully integrated pharmacy operations, expanded healthcare services, improved ambulatory access, minimized clinical variation and new health system revenue streams. Today, CarepathRx serves more than 15 health systems and 600 hospitals, with more than 1,500 employees nationwide. For more information about CarepathRx, visit www.carepathrxllc.com